Intelligent and Mini Airwheel S8 Double-Wheels Electric Scooter
Source:Airwheel beginTime 10/20/2016 11:14:03 AM
Abstract: Airwheel S8 sitting-posture electric scooter is the second type in Airwheel S-series that supports both standing and sitting posture riding(S6 is the first one), and is well recognized as the classic type in Airwheel series due to its optimized design style and improved performance.
Adopting the Cassinian curve design concept, Airwheel S8 is simple and faddish in externality, interpreting the beauty of art via unique design. Comparatively, Airwheel S8 is designed with smaller size and more exquisite style. In order to realize smaller size and light weight, Airwheel S8 sitting-posture electric scooter installs two small wheels with 10-inch diameter, looks extremely tiny and exquisite. More importantly, the 10 inch tubeless tires with excellent performances ensure that you ride on any roads steadily.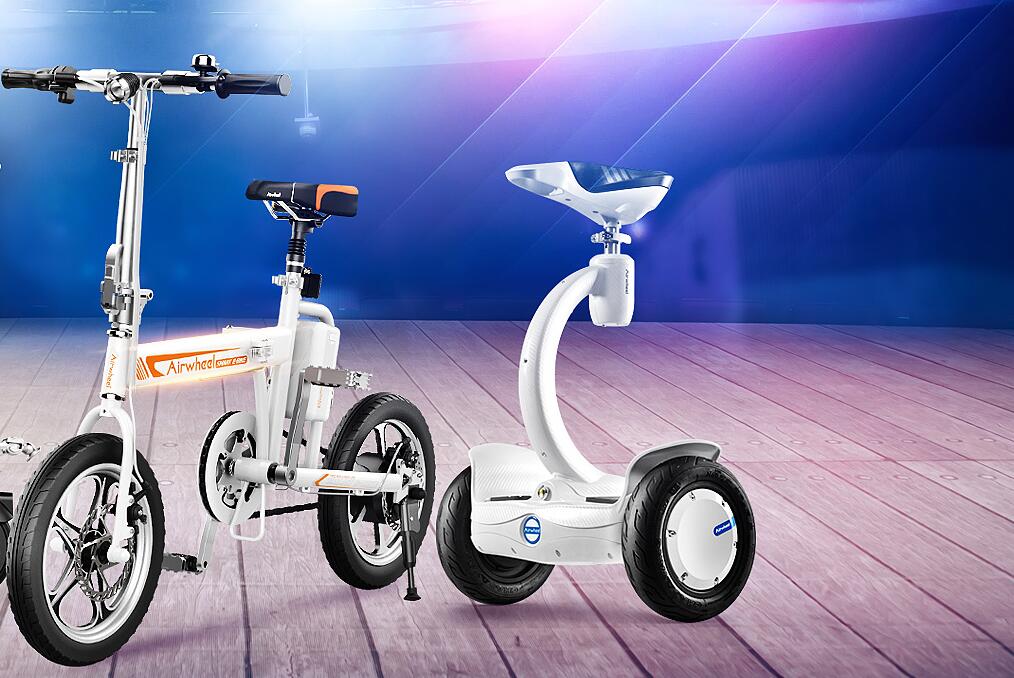 Moreover, the entire bodywork of Airwheel S8 saddle-equipped scooter made from magnesium alloy merely occupies the space of one floorboard, saving a lot of space and alleviating the pressure from finding parking space. Its operating rod is designed to be adjustable, in a bid to provide riders a more comfortable and elegant riding experience. Truthfully, the smaller-sized Airwheel S8 brings more convenience for Airwheel riders. With the 14.8kg item weight, even females can lift it effortlessly.
The fast response to braking is well supported by the high-tech intelligent chip, which acts as the brain of Airwheel S8 Like any other Airwheel types, the tech-intelligence of Airwheel S8 electric walkcar comes with the built-in intelligent chip that realizes automation and data processing.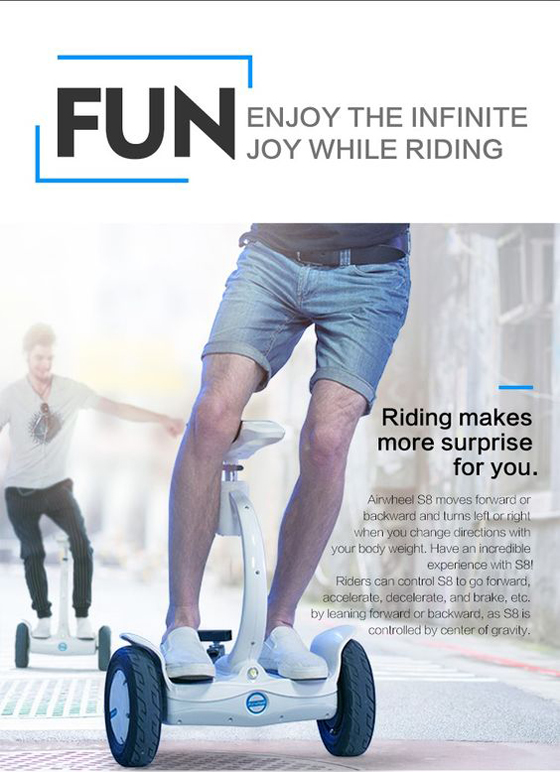 In addition to the mini size and exquisite design, Airwheel S8 can also reach the maximized speed about 17km/h easily due to the large battery capacity and brilliant performance. Of course, it will vary duo to the road conditions and riders' weights etc. The premium battery is able to provide sustainable power supply to Airwheel S8 2-wheeled electric scooter, enduring strong momentum and smooth riding experiences.
Airwheel S8 realizes an upgrade in App. Besides learning the real-time data, its IM social system is designed for people to communicate and share photos on the way, etc.